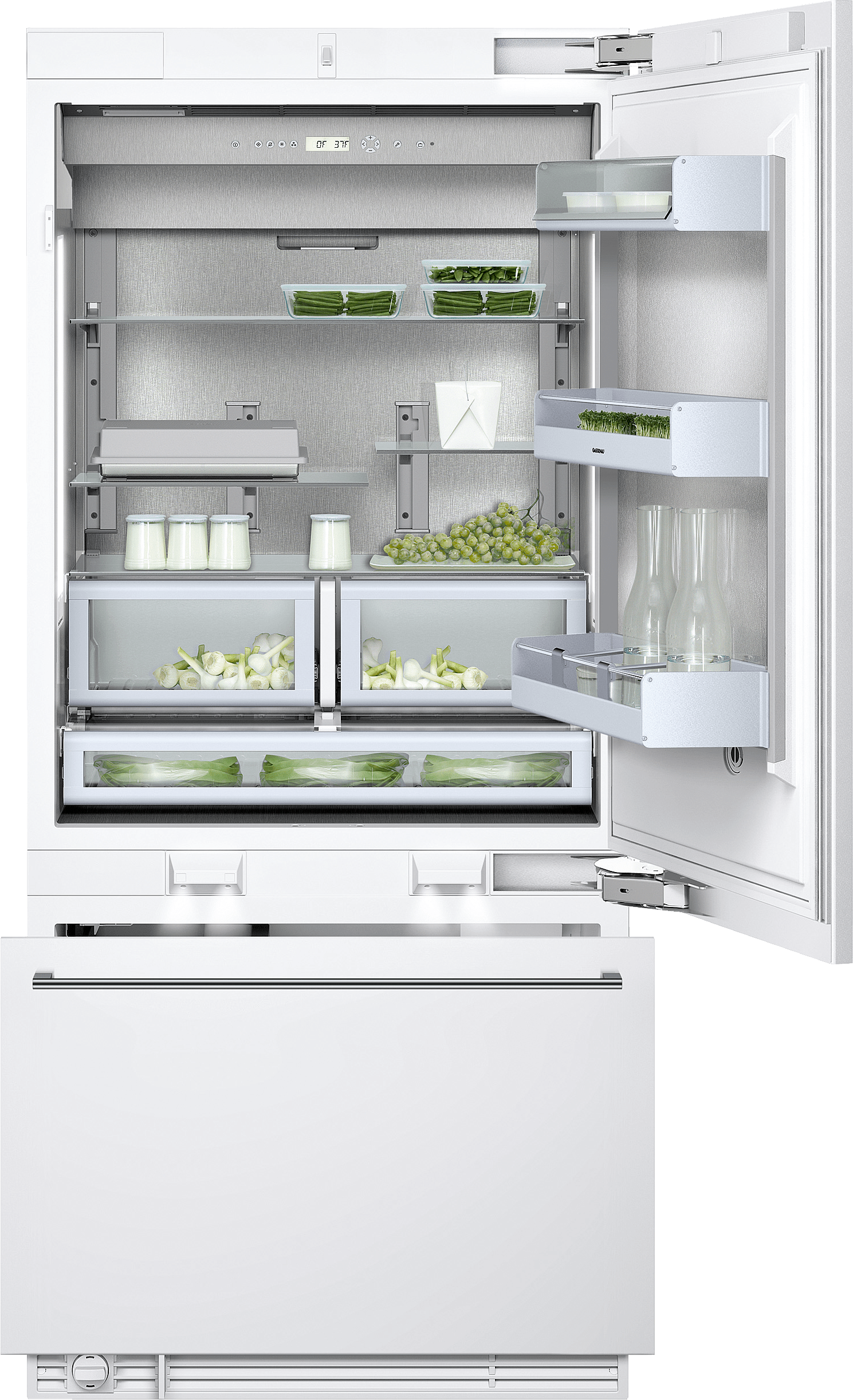 Close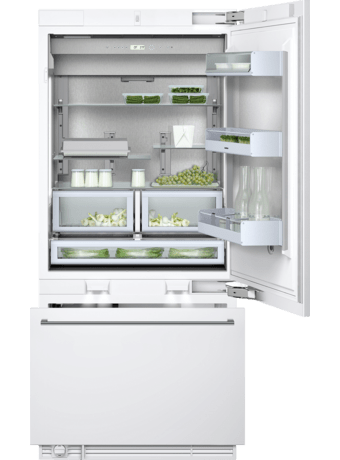 Two-door bottom freezer with integrated ice maker
RB 492 701
with temperature controlled drawer
Fully integrated appliance
Width 36" (91.4 cm)
Downloads
Zoom
Main facts
Width 36" (91.4 cm)
Stainless steel interior
Generous LED lighting concept
Solid aluminum door bins
Net volume 19.8 cu.ft.
Integrated automatic ice maker with fixed water connection
One motorized glass shelf, adjustable when fully loaded
One asymmetrically split glass shelf
Fully extendable freezer drawer with practical divider
ENERGY STAR® qualified
Operation
Electronic precision temperature control with digital temperature display.
Technical features
Dynamic cool air distribution with Multi-Flow Air System.
Automatic defrosting with defrost water evaporation.
Activated charcoal air filter.
Energy-saving vacation mode.
Open-door and malfunction warning system.
Cooling compartment
Net volume 14.3 cu. ft.
No-frost technology with fast cooling.
Temperature adjustable from 35 °F to 46 °F (+2 °C to +8 °C).
2 safety glass shelves, 1 of which is motorized.
1 asymmetrically split safety glass shelf, manually adjustable.
2 fully extendable drawers with transparent front.
Bright interior lighting with LED sidewall pillars.
2 height adjustable door bins, one large gallon door bin.
1 door bin with transparent front flap.
Temperature controlled drawer
Net volume 0.9 cu. ft.
No-frost technology.
1 continuous, fully extendable temperature controlled drawer close to 32F with transparant front, manually controllable.
Freezer compartment
Net volume 5.8 cu. ft.
(166 liters).
No-frost technology with fast freezing.
Temperature adjustable from 7 °F to -9 °F (-14 °C to -25 °C).
2 fully extandable drawers.
Interior lighting with two spot lights.
Ice dispenser
Integrated automatic ice maker in the freezer compartment, with fixed water connection.
Ice maker can be switched off independently.
Ice cube production approx. 3.1 lb (1.4 kg)/24 h.
Removable ice storage bin with approx. 6.6 lb (3 kg) capacity.
Consumption data
Energy consumption 1.619 kwh/24 h.
Noise level 41 dB.
Rating
Total rating 0.588 kW.
Total Amps: 10 A.
120 V / 60 Hz
Connecting cable 139 1/3" with plug.
Supply hose 118" with 3/4" connection.